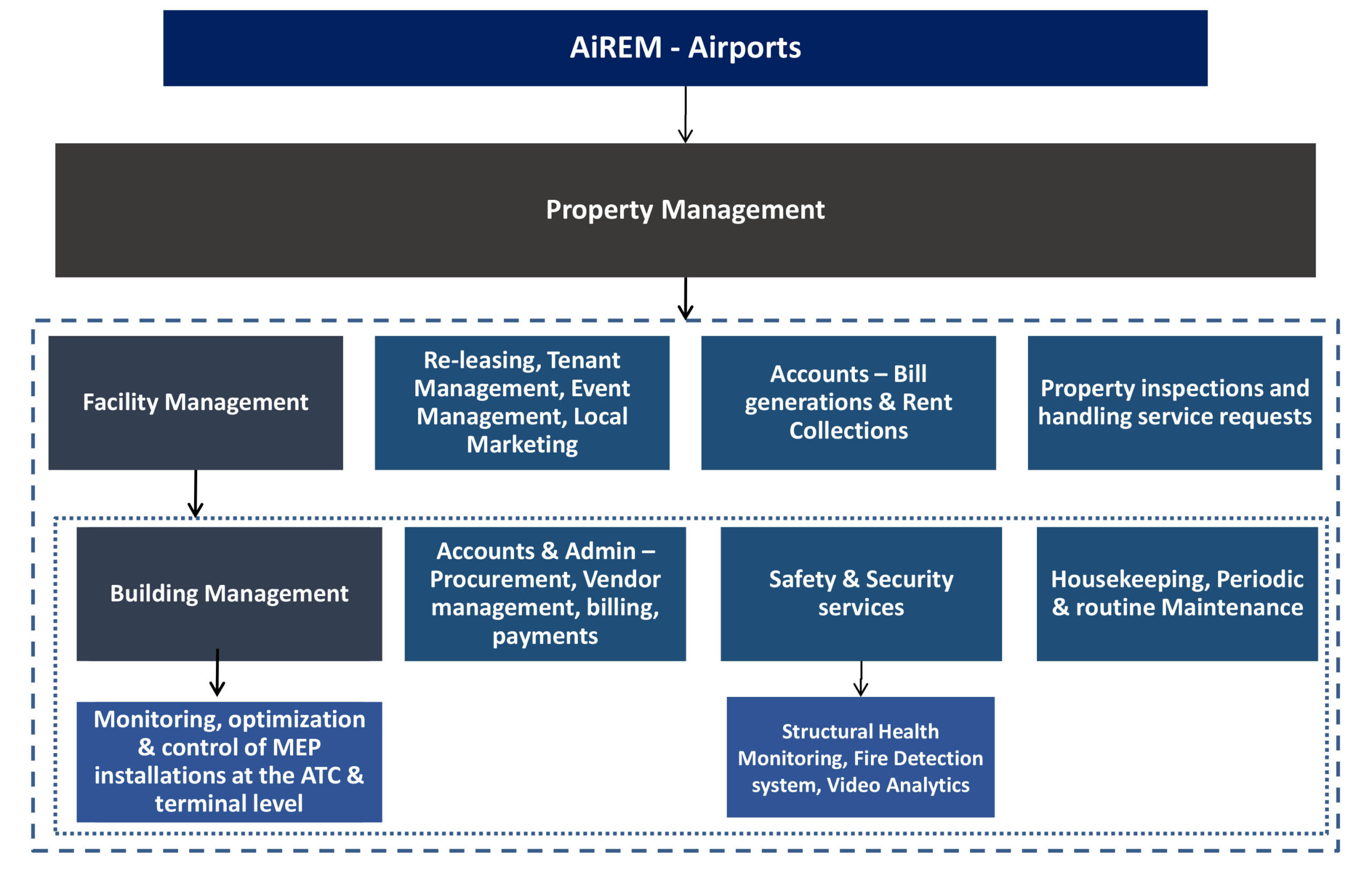 BMS
Airflow Balancing

– Control Airflow, Measure Zone and Airflow temperature

Chilled Water Balancing

– Monitor and optimize the overall performance.

Outside Air Optimization

– Monitors and analyses return air CO2 for  Demand Controlled Ventilation (DCV) 

Indoor Air Quality

– Sensors to monitor and control the level of RH, CO2, NO2, VOC and particulate matter

Advanced Lighting System – Adjusts lighting based on required lux levels.
Structural Health & Electrical Fire Detection
Structural Health monitoring

by analyzing the Ground and Building Settlement, Tilt or Inclination of the building from the vertical position, Building Vibration, Corrosion or rusting of steel

Electrical Fire Detection Solution

–

detect high to ultra high current and voltage signature anomalies and harmonics. Electrical Fire Risk Assessment
Video Analytics
Advanced Intrusion –

Detect activity across a user-defined boundary or perimeter.

Advanced Face Mask Detection –

Detects whether a person entering the premise is wearing a mask or not

Camera Streaming
Crowd Counting –

Estimating crowd densities automatically in real time

Camera Health Check –

Get notified if a camera is being tampered

Facial Recognition –

Identify people in real time

License Plate Recognition –

Identify vehicle number plates in real time
CAFM
Maintenance Management
Facility Booking
Helpdesk & Knowledgebase
Payroll management
Space Management
Visitor Management
Human Resources
Time & Attendance
Tenant Billing System

Energy Dashboards
Cafeteria Management
Smart Facility App
Mail Room Management
Travel Requests management
BMS/BAS Integrations
Project Management
Smart Building Controls
Patrol Management System
Instant Feedback System
On-ground Manpower Support
For day-to-day building maintenance

Housekeeping and Landscaping

Safety and Security Personnel
Network Operations Centre
A network operations center (NOC) can be set-up at a centralized location from where a Facility Manager/Building Owner's team can control and monitor its numerous buildings:
Energy analytics provide insight into your energy usage and savings

View live heat maps of your building.

Schedule system changes and receives alerts

Gain insight into equipment performance, verify service actions and predict equipment failures.

Better control of the security.
Financial Metrics
Enhanced business productivity and revenues.
Enhanced asset's life, performance and value.
Save up-to 50% on your HVAC and lighting costs.
Better portfolio risk management and liquidity.
Significant cost savings in on-ground O&M and equipment maintenance.
Enhanced building electro-mechanical equipment lifecycle thereby reducing cost on reactive maintenance.
Guest/User Comfort Metrics
Enhanced guest/user experience.
Human Centric Lighting + Daylight Harvesting.
Enhanced level of comfort through improved air quality.
Enhanced safety and wellness of the guests as well as the employees.
Personalized zone controls for tenants.
Automated service requests/response.
Operating Metrics
One-point solution for all your property and asset management problems.
Seamlessly integrate all your operations and maintenance requirements at one platform.
Take control of your building's indoor environments and proactively eliminate hot and cold spots.
Enhanced Sustainability of the building and its installed facilities and better Insights on the building health and fire safety.
Enhanced level of security and surveillance through AI based video analytics.
Significant savings in time for resolutions of complaints and efficient co-ordination.
One monitoring point for all managed buildings through Global Unified Network Operation Centre.