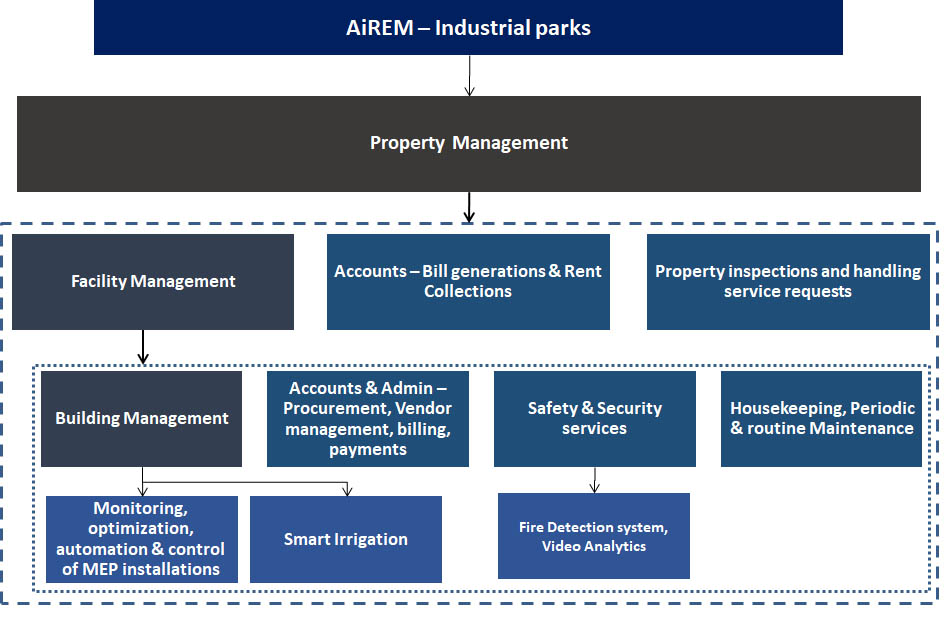 Hi-side automation and control
Lighting Control based on outside Lux levels –

To give them some energy saving over fixed timings-based lighting control on Street Lights

Grid Power Supply

status on Real Time 

Smart meters

for energy and water management system

Monitoring of Energy Consumptions

of STP/ETP , WTP and Lighting – To give easy visibility & comparisons of their consumptions across months which can bring meaningful insight about energy consumptions

STP / ETP / WTP Automation:

To remove/reduce manpower by providing automated monitoring and control
Smart irrigation
Precision based smart irrigation system –

automatically sense the local weather condition, soil moisture content, evapotranspiration and adjust the irrigation run time as per actua water requirement.

Automatic switching on and off

the irrigation pumping station through Wi-Fi controllers and a mobile app.

Save on water and manpower costs
Fire safety
Integration with the Fire Alarm Panel of the tenants

Automated Alert in case of Fire incident in the Industrial Park

Activation of the Industrial Park Response Team for Fire Control and Safety
CAFM
Maintenance Management
Facility Booking
Helpdesk & Knowledgebase
Payroll management
Space Management
Visitor Management
Human Resources
Time & Attendance
Tenant Billing System

Energy Dashboards
Cafeteria Management
Smart Facility App
Mail Room Management
Travel Requests management
BMS/BAS Integrations
Project Management
Smart Building Controls
Patrol Management System
Instant Feedback System
On-ground Manpower Support
For day-to-day building maintenance

Housekeeping and Landscaping

Safety and Security Personnel
Network Operations Centre
A network operations center (NOC) can be set-up at a centralized location from where a Facility Manager/Building Owner's team can control and monitor its numerous buildings:
Energy analytics provide insight into your energy usage and savings

View live heat maps of your building.

Schedule system changes and receives alerts

Gain insight into equipment performance, verify service actions and predict equipment failures.

Better control of the security.
Owners/Operators
Energy optimization and savings through the use of smart lighting sensors.
Save water in irrigation use through smart irrigation system.
Save on man-power costs
Automate STP & WTP and other electro-mechanical installation
Enhanced Fire Safety
Powerful video analytics to decrease operational inefficiencies with enhanced safety security
Remotely monitor all your sites through a single dashboard with respect to energy consumptions, safety and security and gain insights to help in decision making and business profitability.