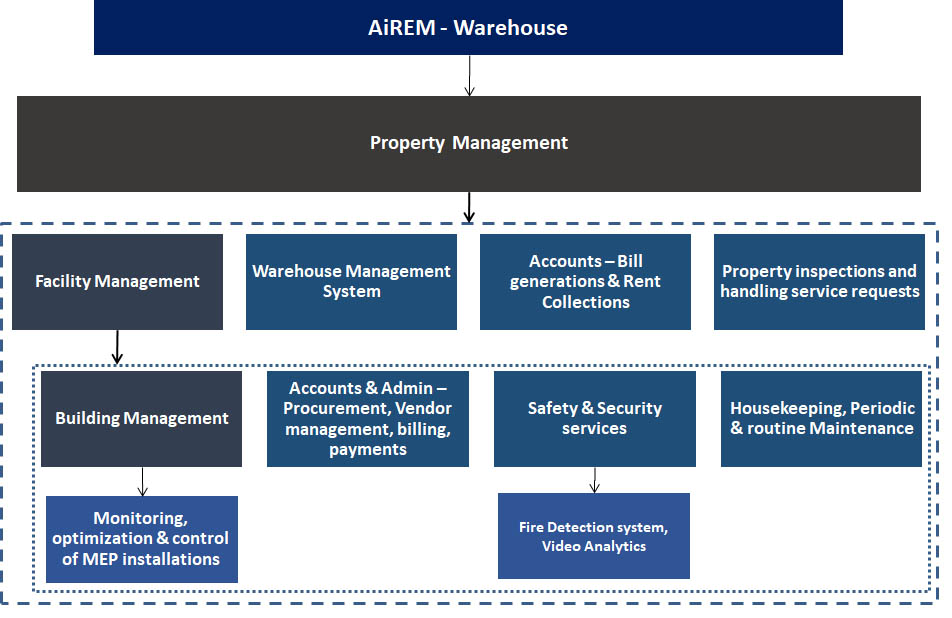 BMS
Airflow Balancing

– Control Airflow, Measure Zone and Airflow temperature

Chilled Water Balancing

– Monitor and optimize the overall performance.

Outside Air Optimization

– Monitors and analyses return air CO2 for  Demand Controlled Ventilation (DCV) 

Indoor Air Quality

– Sensors to monitor and control the level of RH, CO2, NO2, VOC and particulate matter

Advanced Lighting System – Adjusts lighting based on required lux levels.
Refrigeration Monitoring System

– control by customizing the temperature set point for individual appliances, adjust the time threshold and monitor the refrigeration system
Electrical Fire Detection
Electrical Fire Detection Solution

–

detect high to ultra high current and voltage signature anomalies and harmonics. Electrical Fire Risk Assessment
Computer based Warehouse Management System
Dock Management

Receiving

Putaway

Storage

Packing Plan

Packing

Order Processing

Picking

Final Checking Packing

Dispatch

Inventory Check

Replenishment
On-ground Manpower Support
For day-to-day building maintenance

Housekeeping and Landscaping

Safety and Security Personnel
Network Operations Centre
A network operations center (NOC) can be set-up at a centralized location from where a Facility Manager/Building Owner's team can control and monitor its numerous buildings:
Energy analytics provide insight into your energy usage and savings

View live heat maps of your building.

Schedule system changes and receives alerts

Gain insight into equipment performance, verify service actions and predict equipment failures.

Better control of the security.
Tenant Experience
Full visibility and accuracy of available Inventory, excellent picking and delivery accuracy
Highly optimized storage & retrieval and improved operations throughput
Aids efficient order processing through optimized pick paths
Minimizes idle time of equipment and distributes load avoiding bottlenecks
Allows for 24×7 operations, to achieve maximum throughput/volume with minimum down time
Helps in controlling hundreds of equipment including the conveyors, cranes, Automated Transportation Systems and Automated Sorting Systems automatically
Allows for unhindered warehouse operation, while allowing to plan for inventory check of the entire stock in the Warehouse in a phased manner
One monitoring point for all managed warehouses through Global Unified Network Operation Centre.